CLIMATE NEWS
Biodiversity is below safe levels across more than half of world's land – study
Habitat destruction has reduced the variety of plants and animals to the point that ecological systems could become unable to function properly, with risks for agriculture and human health, say scientists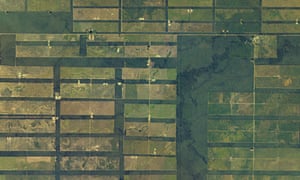 Enormous swaths of dry forest in Paraguay's sparsely populated Chaco Boreal region have been cleared for cattle ranching. Photograph: Planet
The variety of animals and plants has fallen to dangerous levels across more than half of the world's landmass due to humanity destroying habitats to use as farmland, scientists have estimated.
The unchecked loss of biodiversity is akin to playing ecological roulette and will set back efforts to bring people out of poverty in the long term, they warned.
Analysing 1.8m records from 39,123 sites across Earth, the international study found that a measure of the intactness of biodiversity at sites has fallen below a safety limit across 58.1% of the world's land.
Under a proposal put forward by experts last year, a site losing more than 10% of its biodiversity is considered to have passed a precautionary threshold, beyond which the ecosystem's ability to function could be compromised.
Coup d'état Attempt: Turkey's Reichstag Fire?
The damage that was inflicted on the parliament building in Ankara was huge reminiscent of the Reichstag fire in Germany in 1933. The Reichstag fire marked the end of basic freedoms and critical thinking in Germany.
Greenpeace: 'Extremely High' Jump in Post-Fukushima Radioactive Chemicals
There is no return to normal. The vast expanse of contaminated forests and freshwater systems will remain a perennial source of radioactivity for the foreseeable future, as these ecosystems cannot simply be decontaminated.
Unicef Report Reveals 250 Million Child Victims Of War
There have not been so many children suffering the consequences of conflicts, crises and natural catastrophes since the Second World War. Some 250 million girls and boys, one in nine children, are forced to grow up in conflict zones. Even more are threatened by natural disasters such as droughts, floods and epidemics.
Nearly 3,000 Migrants Have Died so far This Year in Mediterranean
http://www.telesurtv.net/english/news/Nearly-3000-Migrants-Have-Died-This-Year-in-Mediterranean-IOM-20160722-0012.html
Some disturbing figures about the upcoming banking crisis
Deutsche Bank has a capital level of less that 3% (just like Lehman), and a risky asset base with derivatives exposure of more than $70 trillion, roughly the size of world GDP. Even the IMF has stated unequivocally that Deutsche Bank poses the greatest risk to global financial stability. And the IMF would be right… except for all the other banks.
Currency Crash Drives Stg to a 31 Year Low As Deutsche Bank Sinks To Lowest Level Ever
The British pound could eventually hit parity with the US dollar. We are seeing seismic shifts on the foreign exchange market right now that will affect trillions of dollars of currency-related derivatives.
Heat Dome Expected to Bake the United States
Forecasters expect a high pressure ridge and extreme temperatures to combine to create what is referred to as a "heat dome" over large portions of the US. A heat dome occurs when high pressure in the upper atmosphere acts as a lid, preventing hot air from escaping. The air is forced to sink back to the surface, warming even further on the way. Heat index values for parts of the U.S. are expected to reach 110 degrees or higher.