Top Stories
Saudi-Iran

Oil

Rivalry Heats Up As OPEC Seeks To Stabilize Price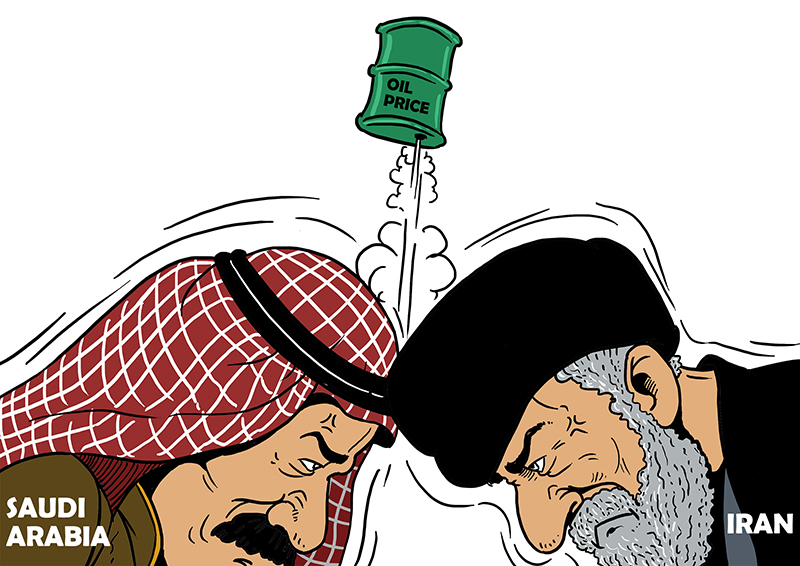 Saudi Arabia and Iran are giving no ground in their market share war, just days after OPEC announced an informal meeting to discuss ways to stabilize falling prices.

Oil

's return to a bear market last week prompted a flurry of words from members of the Organization of Petroleum Exporting Countries. The group's president Mohammed Al Sada announced plans on Monday to hold an informal meeting in Algiers next month to discuss stabilizing the market, while Venezuelan President Nicolas Maduro said Tuesday he spoke to Saudi Arabia's king about boosting prices. The actions of some of the group's biggest producers, however, were distinctly bearish. Saudi Arabia, the world's largest crude exporter, boosted

oil

output to a record 10.67 million barrels a day in July, according to OPEC data published Wednesday. In Iran, production has risen to 3.85 million barrels a day — the highest since 2008 — according […]
Nigeria: New Militant Group Vows to Blow Up More Pipelines
The Niger Delta Greenland Justice Mandate (NDGM) has vowed to blow up more

oil

installations, if government does not meet its demand for inclusion in negotiations with other militant groups. Spokesman of the group, one General Aldo Agbalaja, said the destruction of a delivery trunk line from Isoko to the Eriemu Manifold, belonging to the NPDC/Shoreline Resources, was a tip of the iceberg in its "operation zero" exercise. Agalaja said: "This is just a glimpse of what is to come. There are several assets already penned down for destruction. This line of action has been made inevitable by an unjust system, which only responds to the violent, to the detriment of the peaceful and law-abiding." Meanwhile, the management of the National Petroleum Development Company (NPDC) said, yesterday, that it had shut down the section of the affected facility to avoid spillage. A senior manager of the NPDC, […]
Mexico Said to Begin Quietly Hedging 2017

Oil

Price in June
World's largest sovereign

oil

hedge started earlier than usual Mexico spends about $1 billion a year locking in prices Mexico started quietly buying contracts to lock in 2017

oil

prices when futures were near their

peak

in June, signaling the start of what has in prior years been the world's largest sovereign petroleum hedge, according to people familiar with the deal. The Latin American country bought put options, which give it the right to sell crude at a predetermined price, in June and July, earlier than the usual period of late August to late September, said the people, who asked not to be identified because the process is private. Brent crude, the global benchmark, peaked at nearly $53 a barrel in early June. Since then, prices have declined about $10 a barrel as the outlook for the global economy soured and OPEC countries boosted production. The people didn't say […]
What Really Caused The

Oil

Price Rebound?
Oil

Rig • WTI moved higher on the week by about $1.50 through Thursday as aggressive short covering tied to a bullish IEA report and an informal gathering of OPEC members in September outweighed yet another extremely weak round of DOE stats and accelerating output gains from Iran, Iraq and Saudi Arabia. $43

oil

looks to be fairly valued to us at the moment and we continue to wait for the market's longer term bearish momentum to create buying opportunities below $40. • To that point we still believe that there is enough negative momentum and fundamental justification to move

oil

into the high $30s. The global overhang of crude remains massive, product hubs are drowning in gasoline and distillates and core OPEC + Russia continue to pump

oil

at ludicrous speed. Meanwhile the strength of the global economy remains a risk from the demand side as evidenced by […]
Heinberg: Is the

Oil

Industry Dying?
The

peak

oil

controversy stages a comeback as the industry confronts a future of higher costs — and low prices. A spindletop spouter gushes

oil

in 1902. (Image: Wikimedia Commons) Talking about "

peak

oil

" can feel very last decade. In fact, the question is still current. Petroleum markets are so glutted and prices are so low that most industry commenters think any worry about future

oil

supplies is pointless. The glut and price dip, however, are hardly indications of a healthy industry; instead, they are symptoms of an increasing inability to match production cost, supply, and demand in a way that's profitable for producers but affordable for society. Is this what

peak

oil

looks like? Back in the early years of the current millennium, I was among a handful of authors warning that world petroleum production rates would soon hit a maximum level and start to decline, and that […]