Top Stories
Is Putin's Support For An OPEC Freeze A Game Changer?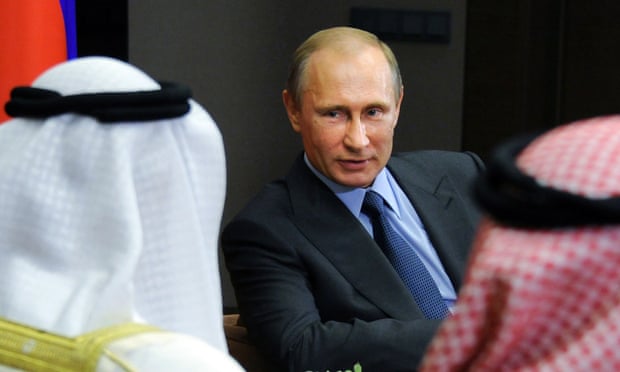 Putin

Oil

In August, when OPEC floated the idea of meeting once again to discuss the possibility of a production freeze,

oil

prices skyrocketed, ending the bear market that had just formed. WTI and Brent subsequently jumped more than 20 percent in a few weeks, kicking of a bull market. Still,

oil

analysts dismissed the meeting as more bluster. After having seen OPEC try and fail to reach an agreement for more than a year, and the dynamics between OPEC members not having appreciably changed from the last time they tried to negotiate, the prospects of a deal seemed slim to nil. And right on cue, after

oil

prices jumped on the

news

that OPEC and Russia would meet on the sidelines of an energy conference in Algeria at the end of September, several representatives from OPEC nations seemed to back off from the notion of a freeze. Iraq's […]
Russia and Saudi Arabia to Work Toward

Oil

-Market Stability
Russia's Putin discusses

oil

with Saudi Deputy Crown Prince Countries agree cooperation needed to stabilize

oil

markets Saudi Arabia and Russia agreed to work together to ensure

oil

market stability even as leaders from the world's two biggest crude producers stopped short of offering detailed proposals.

Oil

-market stability is impossible without Saudi-Russian cooperation, the kingdom's influential Deputy Crown Prince Mohammed bin Salman said after meeting on Sunday with President Vladimir Putin in Hangzhou, China. Prince Mohammed made his comments three days after Putin said he'd like OPEC and Russia to agree to freeze crude supply to steady the market. "Our countries are the two biggest

oil

producers, that's why there can't be a stable policy in the sphere of

oil

without the participation of Russia and Saudi Arabia," said Prince Mohammed, a son of the Saudi king. Putin said it is important for the two countries to
Iran's Ready to Pump More as OPEC Faces 'Prisoner's Dilemma'
Iran can raise output to 4 million b/d in 2-3 months: NIOC

Oil

producers meeting in Algiers this month for output talks As speculation swirls over whether

oil

producers will reach a deal to coordinate output and aid a recovery in prices, Iran says it's ready to pump more. The OPEC member can raise production to 4 million barrels a day in two to three months from the current daily level of about 3.8 million, Mohsen Ghamsari, director of international affairs at state-run National Iranian

Oil

Co., said in Singapore on Monday. The company faces no technical or operational reasons to restrict or cut output, state

news

agency Mehr cited Managing Director Ali Kardor as saying. The comments signal that any deal between

oil

producers in Algiers later this month may have to accommodate more supplies from Iran. The Persian Gulf state is seeking to regain market share after […]
Oil

-Pipeline Protest Turns Violent in North Dakota
A protest of a four-state, $3.8 billion

oil

pipeline turned violent Saturday after tribal officials said construction crews destroyed American Indian burial and cultural sites on private land in southern North Dakota. Morton County Sheriff's Office spokeswoman Donnell Preskey said four private security guards and two guard dogs were injured after several hundred protesters confronted construction crews at the site just outside the Standing Rock Sioux reservation. One of the security officers was taken to a Bismarck hospital for undisclosed injuries. The two guard dogs were taken to a Bismarck veterinary clinic, Ms. Preskey said. Tribe spokesman Steve Sitting Bear said protesters reported that six people were bitten by security dogs, including a young child. At least 30 people were pepper-sprayed, he said. Ms. Preskey said law-enforcement authorities had no reports of protesters […]
Can Norway Supply Europe With Gas Long-Term?
Arctic pipeline As the EU has pushed to reduce greenhouse gas emissions and lower the portion of energy that comes from nuclear sources, the greatest benefactors have been natural gas producers. The single biggest EEA benefactor has been Norway. According to the Norwegian Petroleum Directorate, hydrocarbon production on the Norwegian shelf is expected to remain relatively stable for the next 10 years. In the long-term, new discoveries will be crucial to the sustained production of Norwegian

Oil

and Gas. However, according to the Wall Street Journal, declining

oil

and gas revenues could prompt the country to tap into its sovereign wealth fund, as

oil

and gas fields contributed 29 percent less to government's

oil

revenue for the first half of 2016. This discrepancy suggests Norway needs to look deeper to keep producing

oil

and gas at its current levels. Falling UK gas production has necessitated the UK to start […]